Julie's Greenroom - Cast & Crew
Meet the talented team behind bringing Julie's Greenroom to life!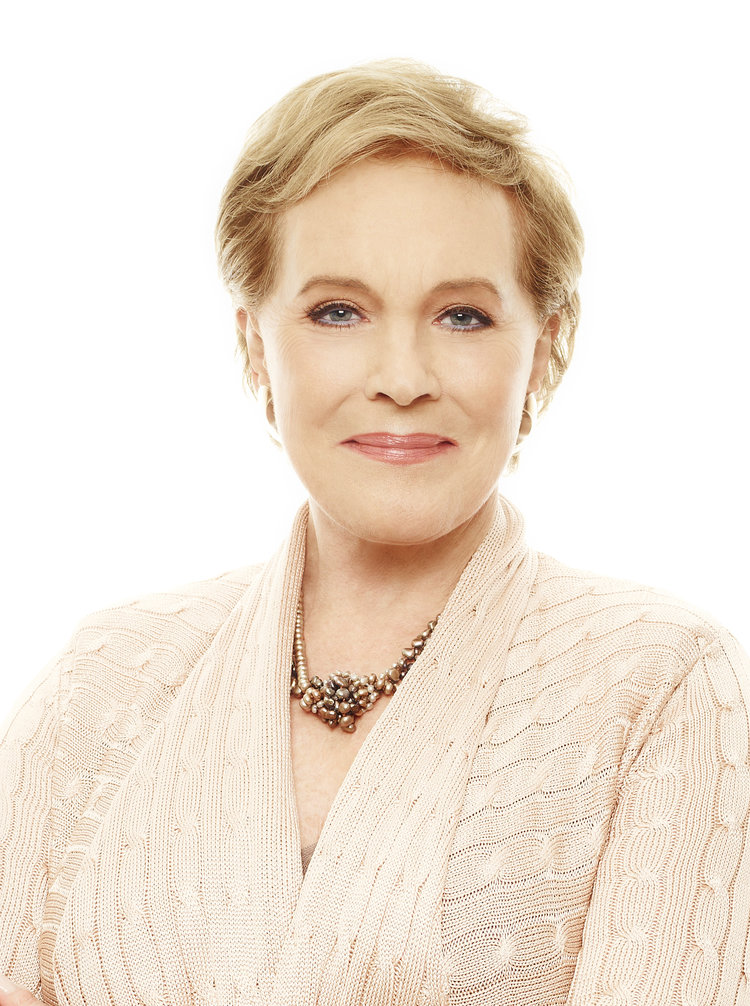 Julie Andrews has been a beloved star of stage, screen and television for more than half a century. She was born and raised in England, where she first came to fame at the age of twelve as a young singer with a phenomenal voice performing on stage and on radio. She was still in her teens when she made her way across the Atlantic to Broadway, for her 1953 debut in the musical The Boy Friend.
In 1956 she created the role of Eliza Doolittle in Alan Jay Lerner and Frederick Loewe's Broadway musical My Fair Lady, which became an instant classic. In 1961 Julie originated the role of Queen Guinevere in Lerner and Loewe's musical Camelot.
In 1964 Ms. Andrews was called to Hollywood to play the title role of the magical nanny in Mary Poppins, which earned her an Academy Award. The following year she portrayed Maria von Trapp in the iconic film The Sound of Music. Her early motion picture credits include among others, The Americanization of Emily, Hawaii, Thoroughly Modern Millie, Star, 10 and Victor/Victoria. (In 1995 Ms. Andrews returned to Broadway for the stage adaptation of the latter).
Today's young film audiences may be more familiar with Julie's portrayal of Queen Clarisse in the hit film The Princess Diaries and its sequel, Princess Diaries II – The Royal Engagement. She is the voice of 'Queen Lillian' in the Shrek movies and the deliciously mean mother of 'Gru' in Despicable Me.
Ms. Andrews has been honoured for her work on television, beginning with her 1957 performance in the title role of Rodgers and Hammerstein's musical Cinderella, followed by her musical variety series The Julie Andrews Hour and numerous television Specials including three she made with her 'chum' Carol Burnett. Television movies include One Special Night with James Garner, Eloise At The Plaza and Eloise at Christmastime.
An accomplished best-selling author (Mandy, The Last Of The Really Great Whangdoodles) Ms. Andrews joined talents with her daughter, Emma Walton Hamilton, in 2003 to create The Julie Andrews Collection. To date they have released over thirty books.
Ms. Andrews' biography, Home – A Memoir of My Early Years, was released in April 2008 and immediately climbed to No.1 on the New York Times Best Seller list. Julie and Emma are enjoying success with their new franchise of books entitled, The Very Fairy Princess. The first book in 2010 rose to No.1 on the New York Times Children's Best Seller list and maintained top ten status for ten weeks, followed thus far by eleven additional books.
Several other projects created and/or authored by Ms Andrews and her daughter have been or are currently being developed for TV, film and stage. This includes a new television series recently launched worldwide on Netflix entitled Julie's Greenroom, which the mother/daughter team co-created, wrote and produced with the Jim Henson Company.
Concurrently, Ms Andrews has come full circle and is delighting in her work as a director of musicals. This past summer she helmed an extraordinary revival of "My Fair Lady" (the very musical in which Julie starred in the original 1956 Broadway production playing Eliza Doolittle) at the Sydney Opera House to outstanding reviews and breaking all box office records. The musical is presently touring Australia on a very successful run.
In recent years Julie directed a musical adaptation of one of her children's books (co-authored with Emma) entitled "The Great American Mousical" in addition to two separate stage productions of The Boy Friend (in which Julie starred in the 1953 Broadway production).
Julie is dedicated to several charitable causes including Operation USA, which she and her late husband of 41 years (famed writer/director Blake Edwards), helped to found. She is on the board of the Foundation for Hereditary Disease, supports Americans for the Arts and is an enthusiastic board member of the Los Angeles Philharmonic.
From 1992 to 2006, Ms Andrews served as Goodwill Ambassador for the United Nations Development Fund for Women (UNIFEM).
In the year 2000 Her Majesty Queen Elizabeth II bestowed upon her the title Dame Commander of the British Empire. Aside from an Oscar, Ms Andrews has received several Emmys, Golden Globes, a BAFTA and Grammy award, among others. In 2001 she was made a Kennedy Center Honoree and in 2011 was celebrated with the SAG Lifetime Achievement Award.
Together, she and Blake raised five children - and much to her delight, ten grandchildren and three great-grandchildren.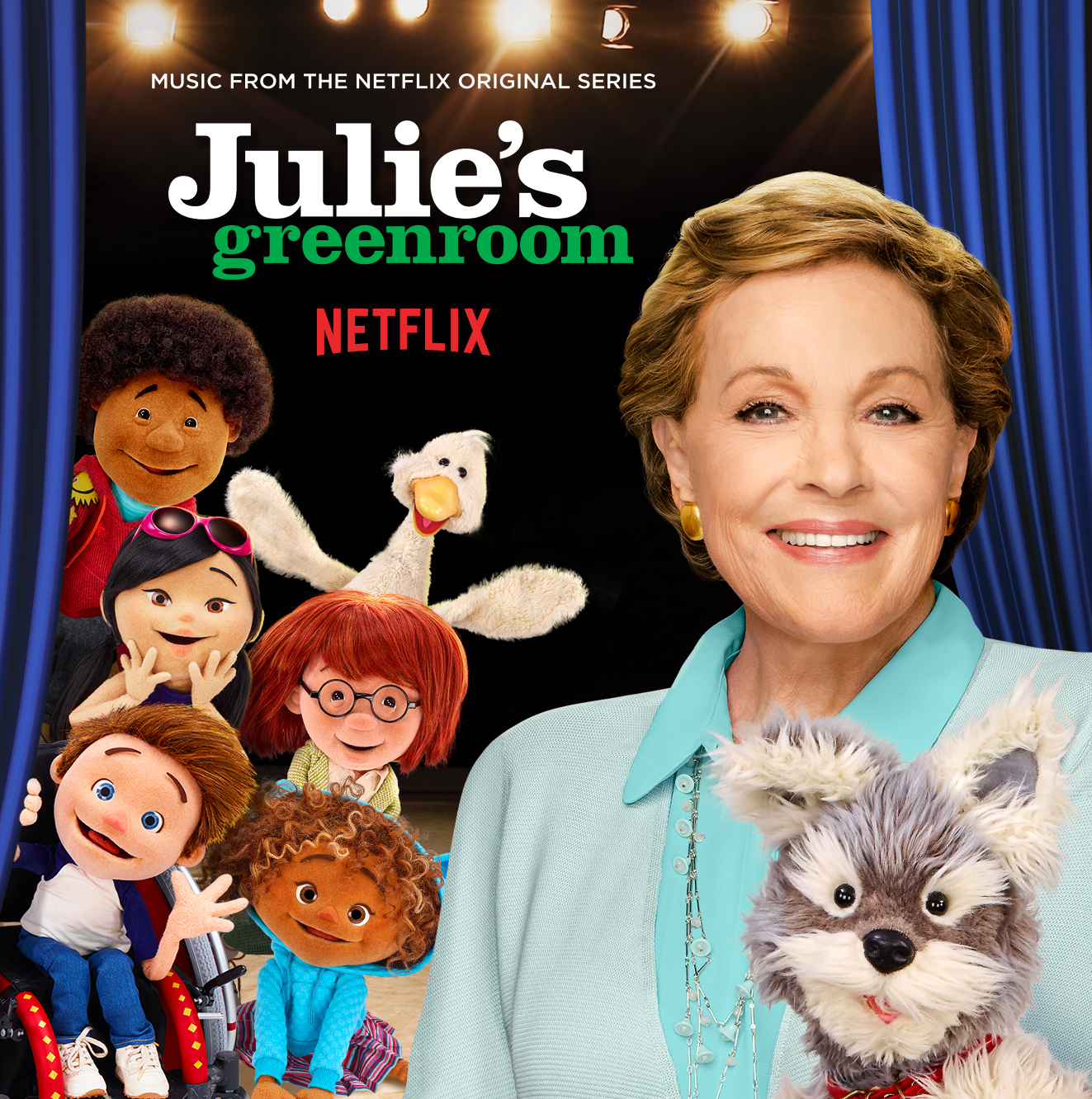 Julie's Greenroom
(Music from the Netflix Original Series)
Sing along to your favorite Julie's Greenroom songs! Composed by Ryan Shore, the soundtrack features a variety of songs sung by the cast and the show's guest stars, from Julie Andrews to Alec Baldwin.